Criterium-Williams Engineers is experienced with all common area residential foundation evaluation types:
Slab-on-Grade Foundations
Pier & Beam Foundations
Manufactured Home Foundations
We have evaluated hundreds of area foundations each year and understand the performance characteristics of each design.
Foundations can fail in a variety of different modes for a number of reasons. However, the number one cause of foundation failure in Texas is soil induced movement associated with expansive clays. Texas has some of the most unstable clay soils in the country which can create a tremendous amount of stress on the foundation. A stressed foundation can result in cosmetic distress, functional distress, and structural distress. This distress can be scary to homeowner or potential buyer. Many homeowners are both confused and frustrated when they receive vastly different opinions, recommendations, and cost estimates from foundation repair companies. Our evaluation will determine how the foundation is performing and what, if any, remedial measures our necessary. If remedial measures are needed, we will provide you with the information necessary to solicit competent and competitive bids from local foundation repair companies.
Our foundation evaluation process consists of the following components:
Site Visit (typically 2-3 hours for slab or 3-4 hours for pier & beam)
Custom floor plan generated (1st floor)
Relative elevation measurements taken
Representative distress inventory recorded
Limited visual inspection of crawl space (if pier & beam)
Analysis & Report
Statistical modeling of foundation movement profile
Generation of level distortion heat map
Analysis of foundation performance
Report generated with opinion & recommendations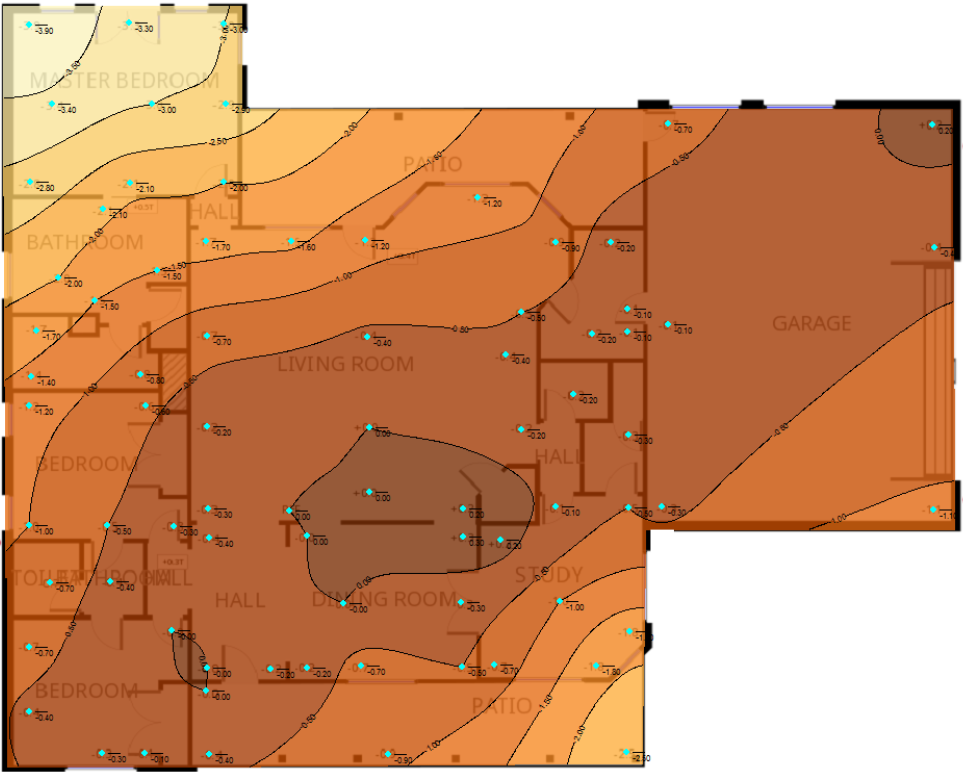 Sample Level Distortion Heat Map
Let us provide you with peace of mind when it comes to understanding the condition of your home's foundation. Contact us today.