Property Condition Assessments
The gold standard for commercial property & building inspections is the Property Condition Assessment as defined by ASTM E-2018-15. This is often the standard of care necessary for large corporations and investment groups as part of their due diligence activities.
Criterium-Williams Engineers has inspected all types of commercial buildings as part of a work portfolio totaling over a million square feet. We can supplement our standard Property Condition Assessment with any special inspections that may be necessary.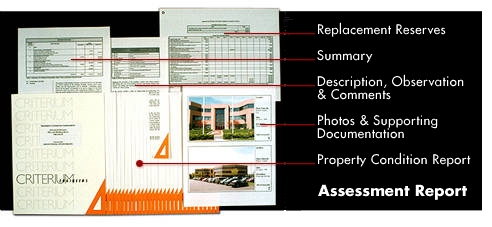 The scope of our investigation is designed to address the unique concerns and risk tolerance of our clients. We provide a list of current deficiencies and areas of deferred maintenance along with the cost to cure these deficiencies. At the end of our report is a table of capital reserve requirements.
Our standard Property Condition Assessment includes a limited document review, interviews of knowledgeable persons/operators, and a thorough visual assessment of the following property aspects:
SITE

Topography
Storm Water Drainage
Ingress & Egress
Paving, Curbing & Parking
Flatwork
Landscaping & Appurtenances
Recreational Facilitates
Special Utility Systems

STRUCTUREAL FRAME & BUILDING ENVELOPE

Foundation
Superstructure
Façade

ROOFING

Roof Covering
Parapets
Drainage

PLUMBING

Materials
Fixtures
Domestic Hot Water

HEATING

System Components (eg. Boilers / Radiators / Air Handlers / Package Units / etc..)
System Design & Control

AIR CONDITIONING & VENTILATION

System Components (eg. Chillers / Cooling Towers / Air Handlers / Package Units / etc..)
System Design & Control

ELECTRICAL

Service, Transformers & Meters
Distribution Panels
General Lighting Systems
Emergency Equipment

System Design & Control

VERTICAL TRANSPORTATION

LIFE SAFETY / FIRE PROTECTION

System Components (eg. Sprinklers / Standpipes / Water Storage / etc..)
Special Construction
System Design & Control

INTERIOR ELEMENTS

Common Areas
Tenant Areas

ADDITIONAL CONSIDERATIONS / ISSUES

Accessibility Survey / etc...